Protective cover, plancha with trolley
This cover will effectively protect your Verycook plancha gas grill and trolley from the cold and harsh weather. With waterproof, aesthetic and practical fabric, it's the perfect protection for your plancha.
THE PROTECTIVE COVER FOR THE PLANCHA WITH TROLLEY
This tailored cover is essential to protect your plancha with your trolley from dust and bad weather. This aesthetic and practical cover protects your entire plancha equipment during storage. The cover is waterproof, which preserves the good condition of your plancha and your trolley. The cover can be adjusted with two fabric straps.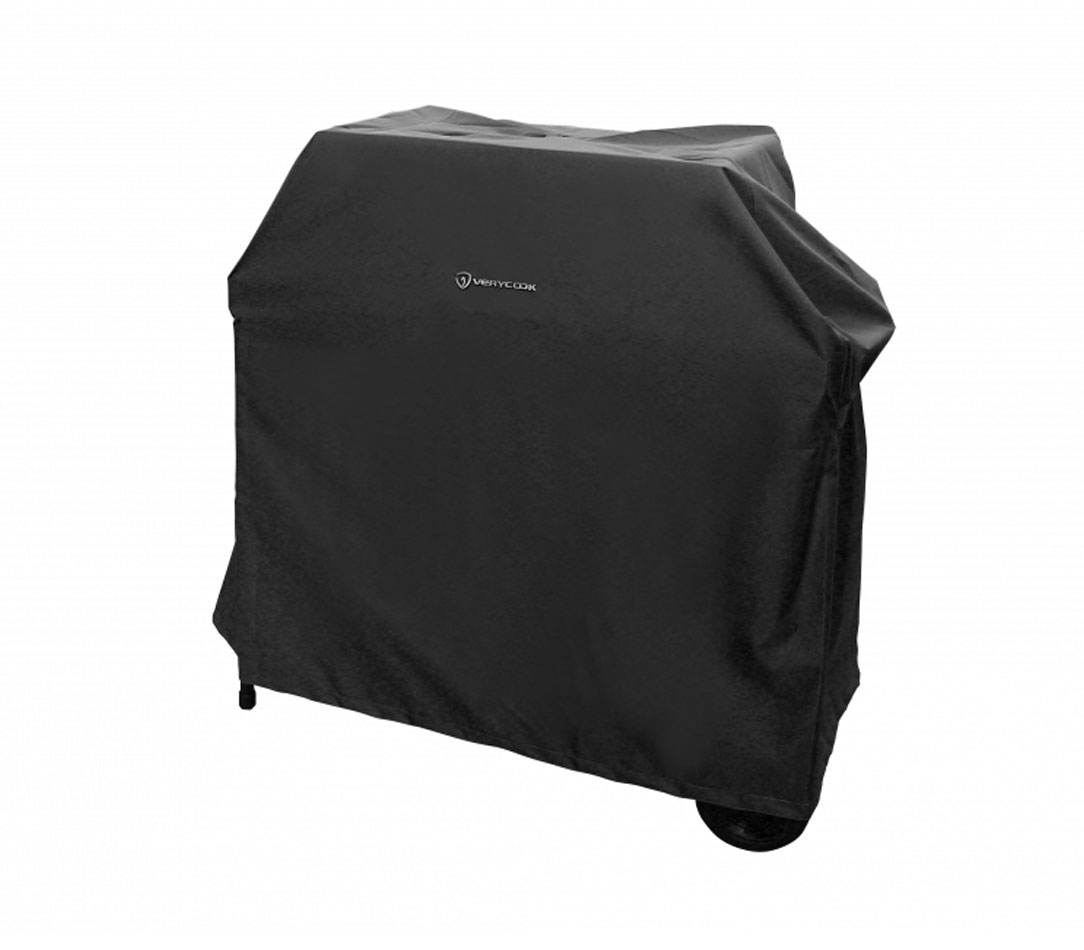 Product dimensions
102 x 55 x 125 cm
Material of the cover
Waterproof PVC fabric, resistant to UV rays and tears
Manufacturer warranty
12 months
This cover is compatible with :
Is the fabric of the covers waterproof?
Yes, the quality of the fabric is waterproof and water-repellent. The quality used is excellent (600D) with an internal protection ensuring a very good resistance all year round and over time.
Can the colour of the cover change over time?
No, the fabrics of Verycook protective covers have been tested to the highest standards. The black colour of the fabric is not sensitive to the sun's UV rays and will not change colour over time and outdoors. This is a material specially designed for outdoor use.
Which protective cover for my plancha / sideboard?
Compatibility List :
Protective cover, plancha 2 burners (HOUSN60)
     - Compatibility : Plancha 2 burners (Creative or Semplicity) + optional protective lid
Protective cover, plancha 3 burners (HOUSN70)
     - Compatibility : Plancha gas grill Simplicity with 3 burners, incl. protective lid
Protective cover, plancha CREATIVE with cooking lid (HOUSNCOUV60)
     - Compatibility : Plancha gas grill Creative with 2 burners, incl. Cooking lid or Verypizz' pizza oven
Protective cover, plancha with trolley (HOUSNDES)
     - Compatibility : Plancha gas grill with 2 or 3 burners and trolley
XL protective cover, plancha with XL trolley (HOUSNDES-XXL)
     - Compatibility : Plancha with two or three burners, incl. stainless steel XL trolley or wooden and metal XL trolley